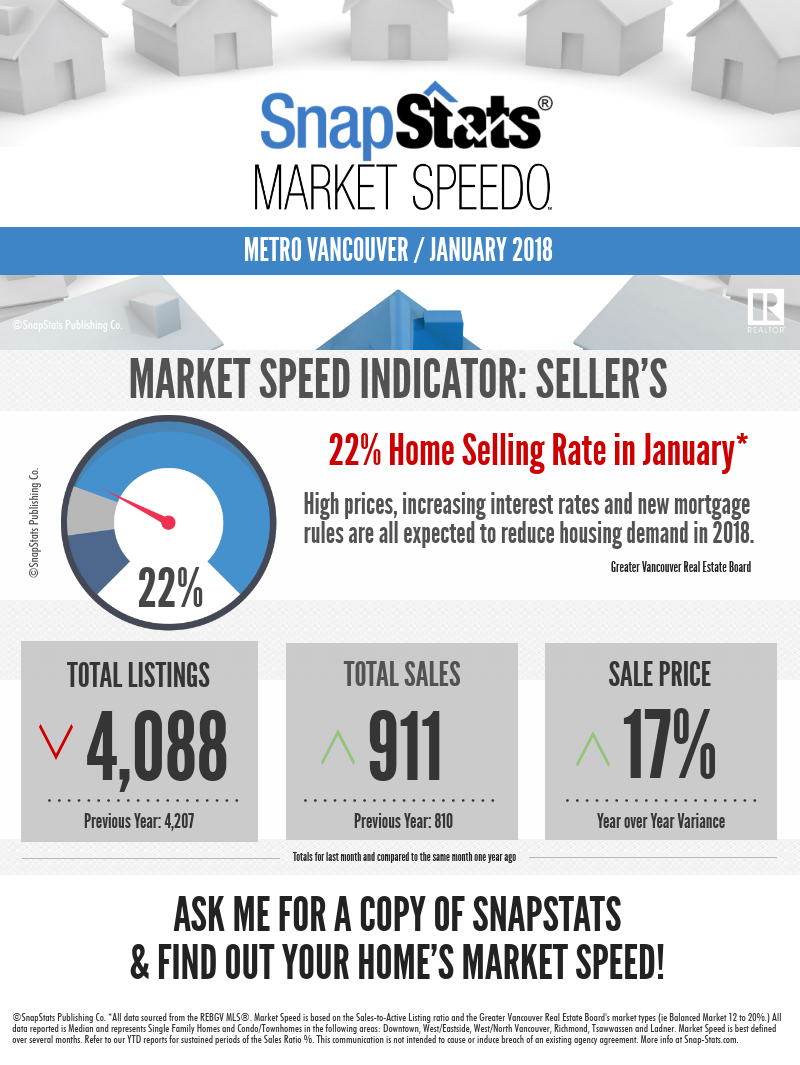 "Attached and apartment homes are in demand across Metro Vancouver, while detached home buyers are facing less competition today." According to Greater Vancouver Real Estate Board.
Total homes sold in January 2018 was 1,818, 19.4% increase from January 2017 which was at 1,523, but a decrease of 9.8% compared to last month in December 2017.
January had good activity in sales and had 7.1% above the 10 year sales average.
- Detached sales down 24.8%
- Attached sales up 14.3%
- Condo and Apartment sales up 31.6%
In general, less competition and more inventory selection for buyers in detached market. So at this time for detached homes, price is the most important aspect for a successful sale.
The total number of properties currently listed for sale on the MLS® system in Metro Vancouver is 6,947, a 4% decrease compared to January 2017 (7,238) and a 0.2% decrease compared to December 2017 (6,958).
For all property types, the sales-to-active listings ratio for January 2018 is 26.6%. By property type, the ratio is 11.6% for detached homes, 32.8% for townhomes, and 57.2% for condominiums.
"Generally, analysts say that downward pressure on home prices occurs when the ratio dips below the 12% mark for a sustained period, while home prices often experience upward pressure when it surpasses 20% over several months.
The MLS® Home Price Index composite benchmark price for all residential homes in Metro Vancouver is currently $1,056,500. This represents a 16.6% increase over January 2017 and a 0.6% increase compared to December 2017.
Detached home sales in January 2018 reached 487, a 9.7% increase from the 444 detached sales recorded in January 2017. The benchmark price for detached properties is $1,601,500. This represents an 8.3% increase from January 2017 and a 0.3% decrease compared to December 2017."
Apartment home sales reached 1,012 in January 2018, a 22.7% increase compared to the 825 sales in January 2017. The benchmark price of an apartment property is $665,400. This represents a 27.4% increase from January 2017 and a 1.5% increase compared to December 2017.
Downtown:
Condos and Apartment
In general downtown Vancouver area was in a seller's market at 41% Sales Ratio average. Highest sales average was for units priced between ($500K-$600K) at 78% sales ratio and ($1,75m-2m) at over 100%.
Most active sales were up to 1 bedroom apartment (51%) in Yaletown (49%)
To summarize, Vancouver downtown apartment is fully in sellers market and very active.
Vancouver Westside Detached
The detached homes in Vancouver Westside is in buyers market at 8% Sales ratio average.
Highest sales average was for homes priced between ($2m-$2.25m) at 40%, then from ($2.5m-$2.75m) at 18%
Vancouver Westside condos and townhomes
This category stands at 39% and indicates a sellers market
Most active price was between ($500k-$600K) at a whooping 123%
The best selling areas were Kitsilano and university for up to 1 bedroom units
Please find the charts below for Detached and attached homes: